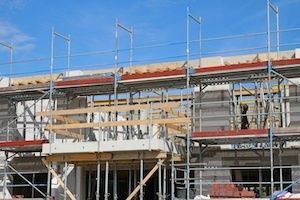 COMMERCIAL CONSTRUCTION
Whether you are building a new commercial retail complex, or building out the interior of a single retail or office establishment, J.W. Rigney has the skills and experience to ensure that your project is a success. Our team can take your project from start to finish, consulting with architects, engineers, building inspectors, designers and more. 
Contact us
 today to see how we can help you.
COMMERCIAL COMPLEX
A commercial complex, whether office or retail, can be a big job and require a large and dedicated team to get the job done. J.W. Rigney has the ability to put together large teams of qualified contractors as needed, while maintaining strict quality control. The resources to put together a team of this size are beyond the scope of most contractors, but our experience and industry contacts are sufficient to ensure that your construction project will be handled by a skilled team that can get the job done.
COMMERCIAL SPACES
The build-out of commercial spaces requires working with retailers and/or designers to ensure that the company's brand and identity are represented in the finished product. This type of finish work is a J.W. Rigney Construction specialty. Attention to detail, from the location of electrical sockets to the color on the ceiling -- each element in the design is an important aspect of the overally product. J.W. Rigney will ensure that your commercial space is not fuctional, but beautiful as well.
OFFICE SPACES
Office spaces require a very specific set of building skills, including things such as raised floors, aluminum construction, and drop ceilings. J.W. Rigney Construction has all of the skills needed to ensure that your office build-out is completed quickly and with the highest construction standards without breaking your budget.